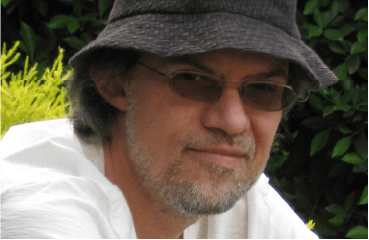 "I have been an artist all my life. Trained as a traditional fine artist and animator in my native Bulgaria I have worked all over the world. Therefore I consider myself a cosmopolitan. Currently based on top of a hill in the mountains of Southern California, I see the world from above.
I am known to the film industry in Hollywood as an art director, visual effects designer, concept artist and environments matte painter. My career in the movies trained me to be very flexible and to work in different styles to visualize the Clients' ideas. Hence I learnt to experiment with all kinds of media to create eclectic range of art. My personal inspiration comes from Music, Nature, Religion and Quantum Mechanics. I imagine some of my paintings as quantum vibrations in the core of the physical world. One of my favorite mediums is gold and silver leaf inspired by the tradition of the Eastern Orthodox icons.
While I find my professional film work very fulfilling it is also highly photo-real.
I found a good way to relax by expressing my visions, feelings and emotions through fine art.
Hope you enjoy my inner world."